Khair Ali, a 16-year-old Bahraini exchange student, a senior, is wrapping up her exchange experience soon.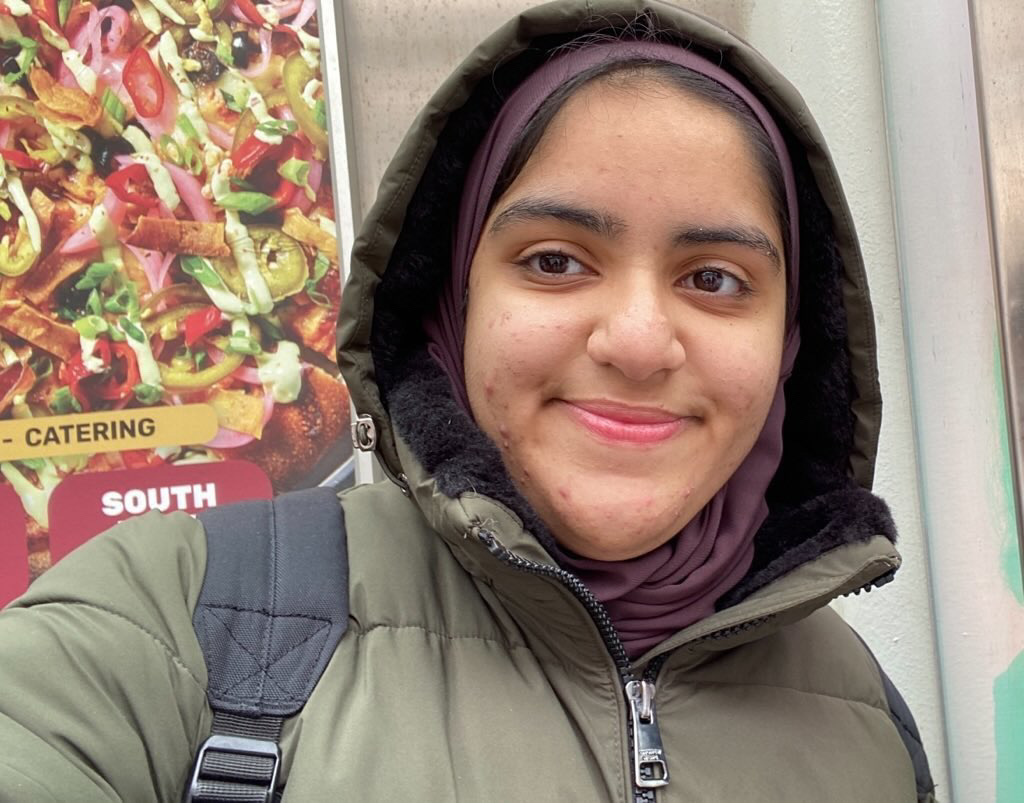 After her time at PHS, Ali said that she wants to "make some changes back at my school in Bahrain."
Ali is hopeful to "implement some clubs that I liked here" back home, and "do some lectures, maybe, about the differences between my country and the United States."
"This exchange program gave me a lot to give," she said.
Regarding her exchange year, Ali said that she "wouldn't change a thing, actually, because the difficult things that I've been through were really helpful to shape who I am today."
She said, "yes, of course, I'm gonna miss Perrysburg a lot. PHS holds a lot of my heart. But I wouldn't say I need more time, because I think everything comes to an end."
Ali said she wants to "tell [Bahrainians] about my experiences, and the people that I met."
"A year is not quite enough to create all the memories in the world, but I think there's more to come," she added.
On extracurriculars
"The options and the availability of extracurricular activities that we have here are kinda different than what I have back home. It's just really diverse [in Perrysburg], and there's everything for everyone," she said.
"I definitely got involved a lot in different clubs and teams in school," Ali said.
Out of all the clubs, she said Speech and Debate "was an amazing club to me. I found a lot of friends, and made a lot of connections throughout that club, and I found myself better in speaking publicly, and in a language that was kinda new to me."
Ali said she "moved on to theater. Theater was an amazing experience. Just working collaboratively with everyone has been amazing, along with getting to know everybody and their different backgrounds and working together to achieve the same goal."
Besides those two activities, Ali said that she has "been involved in Interact Club," and "MSA, which is the Muslim Student Association."
"Actually, we just created MSA [this year], and I kinda helped out with implementing some programs; it's a new club, so a lot of students are still working on it," she added.
"I wasn't the founder. But I found myself involved in it, and we talked about different topics, like how we could help the school as a Muslim association. I would just consider myself a member," she said.
On food
In the culinary world, Ali said that "Bahrain definitely has a whole variety of other dishes, and here it's a lot different than what I eat back home. And I really like the Bosco Sticks! It was a life-changing experience for me here."
"I liked Mexican food, like going to Chipotle and Taco Bell," she said.
She liked how "food can reunite people; when we have club meetings, we share some snacks, and it just helps break the ice."
She then said that her most memorable meal was "Peanut Butter and Jelly, because when I eat a sandwich, I never thought about eating just plain bread with peanut butter and jelly, and I was like 'Oh, it's a simple dish that I can make myself!' and it's really practical. It just gives me a lot of options to make it either a side dish or a main dish, and I think it's fascinating."
On classes
Ali said that "the educational system in Bahrain is different than here. We don't pick and choose what classes we take. We just specialize core classes in Bahrain. Even coding and computer science."
"Here, I can take a Psychology class and a Biology class in the same semester," she said.
She added, "It's really interesting that I can create my own board of interests and enjoy it throughout the semesters."
Regarding her process of picking classes, Ali said that "it was hard, but my counselor, Mrs. Bihn–special thank you to Mrs. Bihn–she helped me a lot with my process of finding myself, and my interest and such.
She added that "just going to the office [for Bihn], whenever I struggled with a class, or when I wanted to change a class, or wanted to get enrolled in a class, she was really helpful in that aspect."
"I took basic drama with Mr. Meinhart, and then I switched to Psychology in my 2nd semester, and then I took a really fun class called Job Connection, which was really helpful for me to explore more about jobs in the US and the differences between them here and in Bahrain," she said.
Ali said that sports here "were really incredible! Especially when I went to my first football game!"
"We don't have American football at home, of course. So going to as many football games that I could possibly fit into my schedule, or basketball games to support my friends in the school, was really fun and I think it was during these events that I created the most memories in," she said.
"To every Perrysburg student: Get involved! Because this opportunity you have here at PHS is really unique."

–Khair Ali
"I hope I come back to Perrysburg soon!" Ali said.
Other stories on eSomethin: